功能 - 促进血液循环,缓解肌肉疲劳和释放停滞的能量

RELIEF 护理油是一种阿育吠陀配方润肤剂,具有抗炎和防腐性能。清凉效果有助于放松紧张的肌肉并减轻体味。

RELIEF 护理油是一种专为缓解肌肉酸痛而配制的混合油。它混合了乳香、没药、檀香和其他抗炎舒缓精油,是忙碌生活的绝佳伴侣。涂抹在肌肉上可舒缓紧绷的肌肉,香气舒缓身心,让您保持积极向上。
HOW TO USE

For pain relief, apply adequate amount of RELIEF oil on the strained muscles. 


For massage, use 1 portion of RELIEF oil with 2-3 portions of your favourite base oil can stimulate your body circulation.

You can also pour some into your bath water for a real treat which nourish and moisturise your skin. 
INGREDIENT

Olive Oil (Olea Europaea), Sesame Oil (Sesamum Indicum), Sunflower Oil (Helianthus Annuus), Wheatgerm Oil (Triticum Vulgare), Grapeseed Oil (Vitis Vinifera), Juniperberry Oil (Juniperus Communis), Carrotseed Oil (Daucus Carota Sativa), Sandalwood Oil (Santalum Album), Frankincense Oil (Olibanum), Myrhh Oil (Commiphora Myrrha)
CAUTION

Keep out of reach of children. Possible skin sensitivity. Avoid contact with eyes.

If you are pregnant, nursing, taking medication, or have a medical condition, consult a health professional prior to use.

Avoid direct sunlight or UV rays for up to 12 hours after applying product.
STORAGE

Keep in a cool, dark place.
Share
查看完整详细信息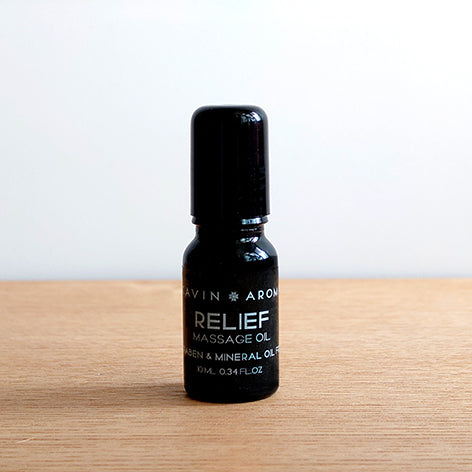 RELIEF Bundle
RELIEF Roll-on design make it easy to carry with you, so you can easily use it wherever you go!
Enjoy Special Offer